About Us
MekongCruise.com - managed and operated by VietAsia Travel Co., Ltd, Business License No. 0103757257 and International Tour Operator License No. 01-456 / 2018 / TCDL- LHQT GP. We specialize in providing and organizing package tours in Vietnam, Cambodia, Laos, Myanmar and Thailand. With a wealth of experience, a team of talented, young and professional staff who are professionally trained, enthusiastic and friendly, guides who have many years of experience in the field of tourism, we are proud to bring you the BEST SERVICE.
With the desire to provide customers a Mekong cruise trip with rich and updated products, we would like to introduce our online Mekong River Cruise booking system – MEKONGCRUISE.COM - The system that specializes in providing Mekong River Cruises in Vietnam, Cambodia, Laos and Myanmar... We are committed to offering the BEST SERVICE and BEST PRICES on this system.
Why choose us
If you are wondering how to choose a best Mekong cruise tour provider? Please select us with the indispensable criteria below, we believe that it will bring visitors a wonderful vacation on the Mekong River cruise, even the smallest service but the best.
We are a tour company specializing in Mekong River Cruises fully granted Business License No. 0103757257 and International Travel Business License No. 01-456 / 2018 / TCDL- LHQT GP.
Professional, young and experienced staffs of Mekong River Cruises will consult and support you to have a pleasant experience through trips.
Through many years of operation in the field of providing Mekong River Cruises, we have a good relationship with the local cruise companies to get the BEST PRICE, always update the PROMOTION programs.
Committed to offering the best products and services worthy of the cost you pay.
Convenient, easy and fast payment methods are guaranteed.
International Tour Operator Licence's copy: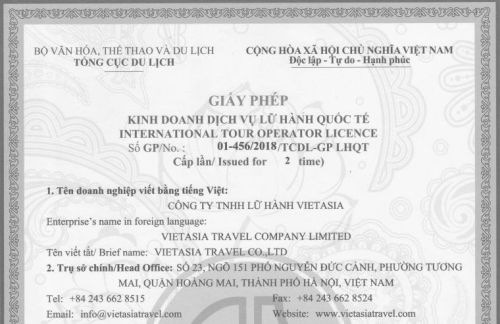 Business Licence's copy: